Books for children
Now you can guaranteedly receive the ordered children's book on board. Book now and get on board. The service was introduced due to a limited offer on board.
The game book Windy and Rosie's fun journey will become a perfect entertainment for a kid aged 3-6, will teach new things about aviation, and help learn the rules of behaviour during the flight. The curious children's suitcases Windy and Rosie will tell the little ones how the airline works, who prepares the plane for a flight, and what functions the crew members perform. There are funny characters, facts from the world of aviation along with a handy format, colouring pages and interactive elements. The set includes pencils and a pleasant surprise for a little traveller.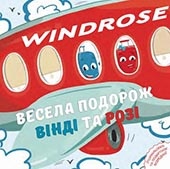 The game book «Windy and Rosie`s fun journey» for children 3-6 years old (size 20х20 cm, 16 pages) - 8 c.u.[1] Order now
This interactive coloring book will familiarize children aged 6-10 with the world of aviation. Windy and Rosie are curious children's suitcases, they will tell us who prepares a plane for a flight, what happens in the cockpit, how the plane takes off, and many other interesting facts about flight. Besides exciting interactive tasks and colouring pages you will find inside a pleasant surprise for children – selfie masks of a pilot and a stewardess.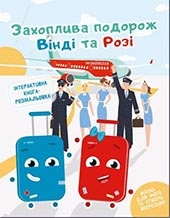 The interactive coloring book «Windy and Rosie`s exciting journey» for children 6-10 years old (size 21х27 cm, 22 pages) - 6 c.u.[1] Order now
[1]
the calculation is made in UAH at the rate on the day of payment.
Subscribe to newsletter
You have successfully subscribed to the newsletter
Subscribe to newsletter
You have already been subscribed to the newsletter
Subscribe to newsletter
You have not entered a phone number or email