Windrose to combine east, west, north, and south of Ukraine with flexible flight schedule
17 February 2020
In particular, you can get from Lviv to Kharkiv and then back in one day. From now on, it is possible with Windrose[1].
Starting from April, the Ukrainian air carrier is launching regular flights connecting the six largest cities of Ukraine – Kyiv, Kharkiv, Dnipro, Lviv, Odesa, and Mykolaiv. This is a new opportunity to travel quickly within the country several times a day. It doesn't matter whether it's a pre-planned journey or a spontaneous decision.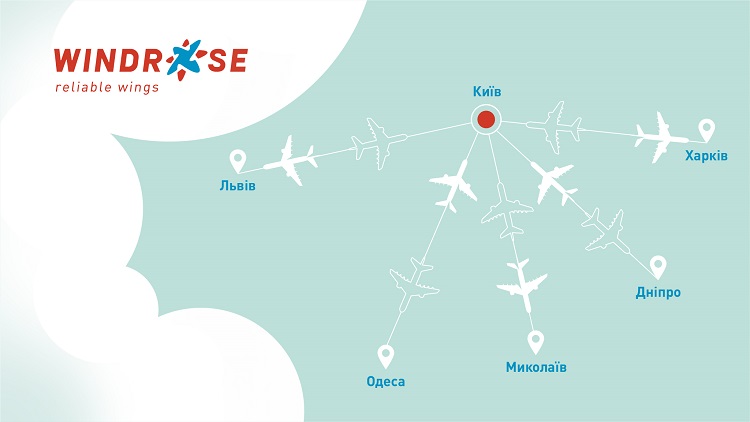 "I dreamed of creating a comfortable programme of domestic flights back when I worked for Air Ukraine. Then, it could not be done. But I kept on cherishing the dream and waited for the time for it to become a reality. Windrose has been involved in tourist traffic to different parts of the world for more than 16 years. Eventually, it has become obvious that time has come to apply our experience to domestic flights. This year, we are launching a new domestic programme that is to connect the large cities of our country by convenient and fast air travel", says Volodymyr Kamenchuk, CEO of Windrose.
Advance booking is available since 13 February. Choose your ticket type – Light, Standard, or Plus – for the best prices on the company's website.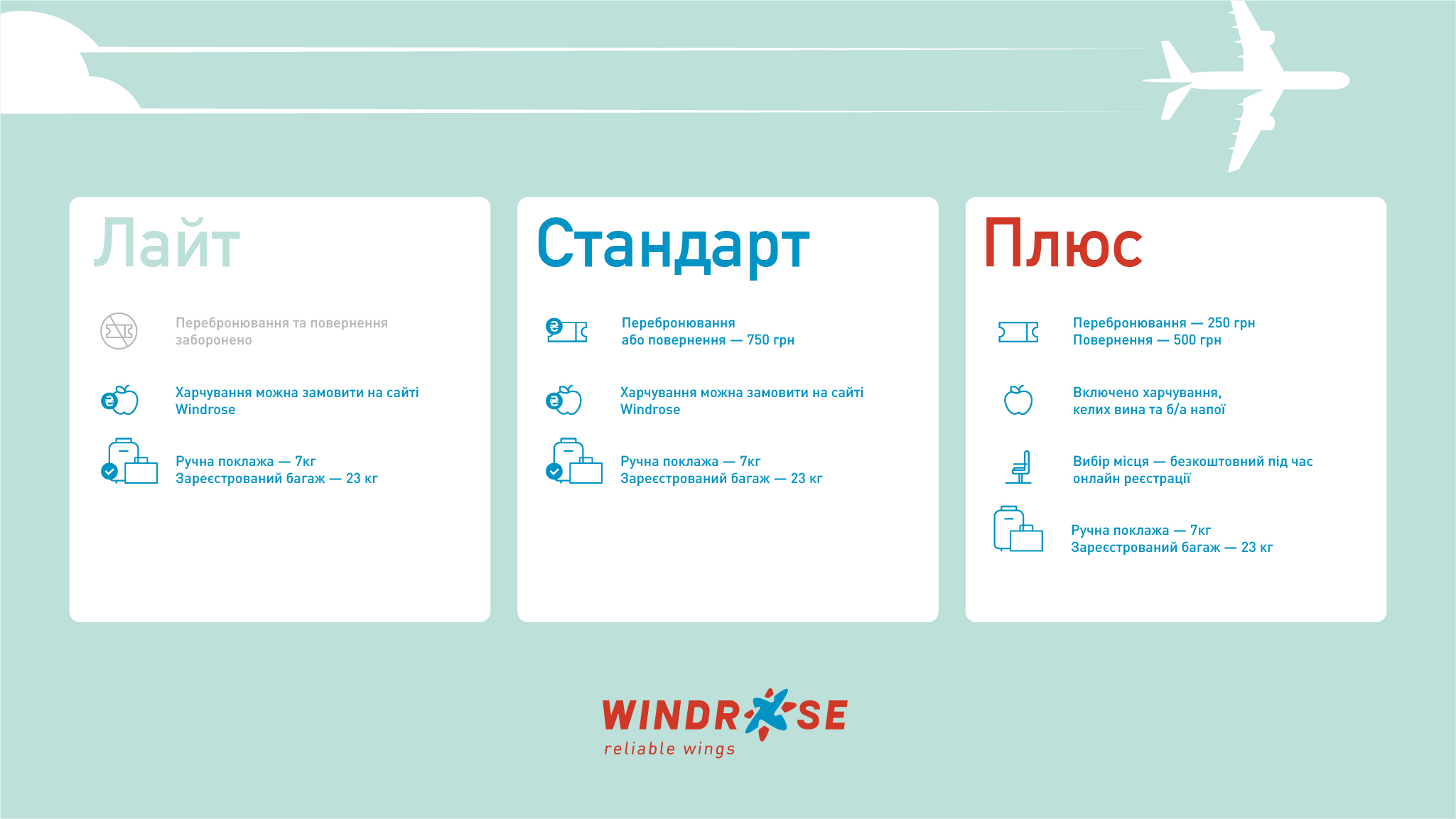 New habit – fly Ukraine
Return home on the same day.
Travelling with Windrose, you do not have to urgently search for a hotel or spend a night on a train. The air carrier has taken care of the convenient schedule: 2-3 flights per day with departures in the morning, afternoon, and evening.
Windrose is three times faster than high-speed train.
It will take you 6 hours to travel from Kyiv to Dnipro by a high-speed train. You will need no more than 40 minutes for the registration and other formalities at the airport. You can also use online registration on the website. The flight time to Dnipro is 1 hour and 20 minutes. This is generally three times faster and more comfortable than a high-speed train ride.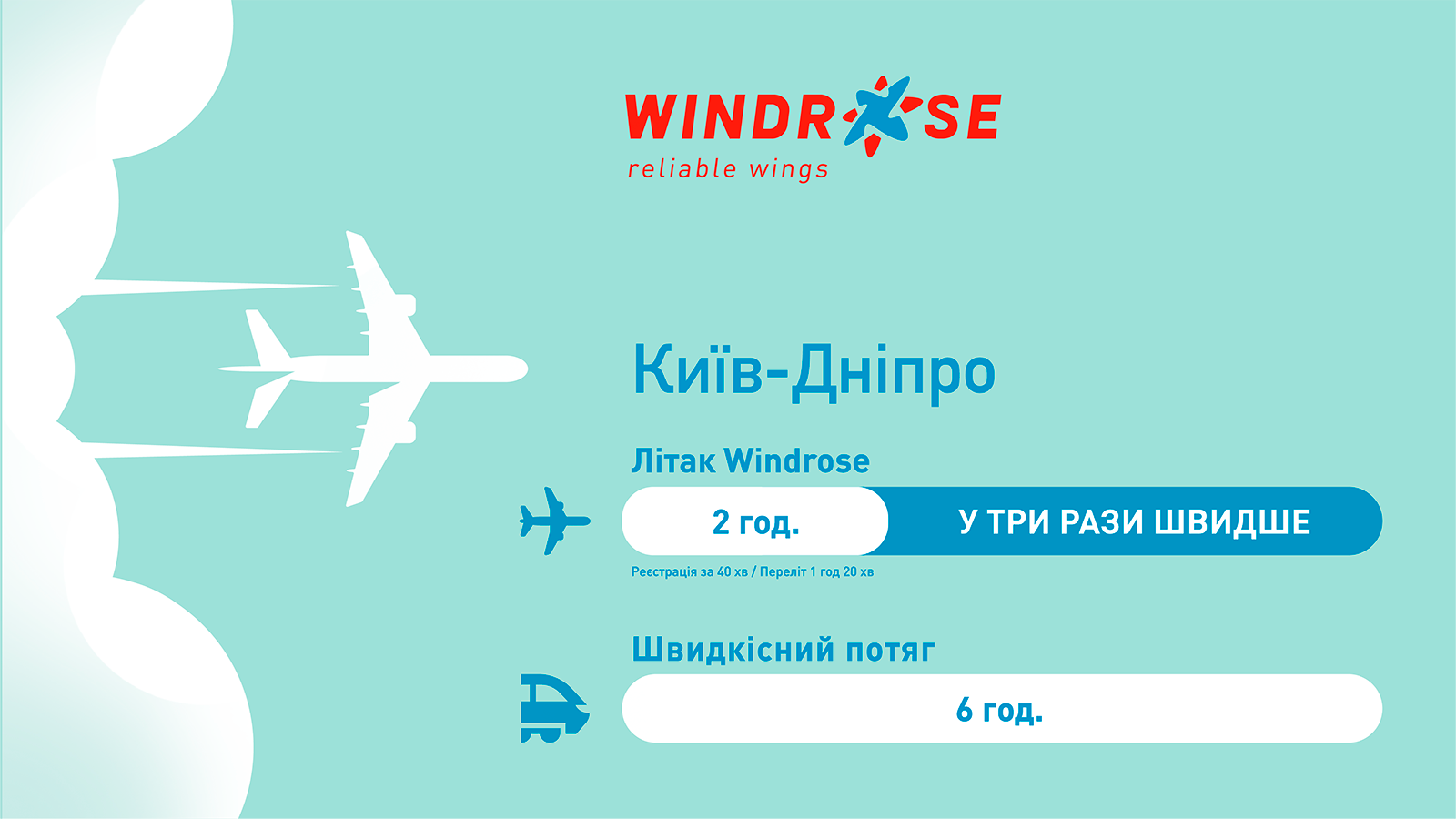 Timely departure and arrival.
According to the rating of the Ministry of Infrastructure of Ukraine, Windrose was one of the most punctual Ukrainian carriers in 2018-2019. Using Windrose services, you will be able to manage your time with the maximum efficiency and plan your day to the exact minute.
Reliable aircraft fleet.
The flights are made on ATR72-600 planes. These are planes of increased security, reliability, and comfort, specially designed for the regional air transportation by the French-Italian company ATR, which is considered the largest manufacturer of the regional class aircraft in the world. Every 8 seconds, an ATR plane takes off or lands around the world.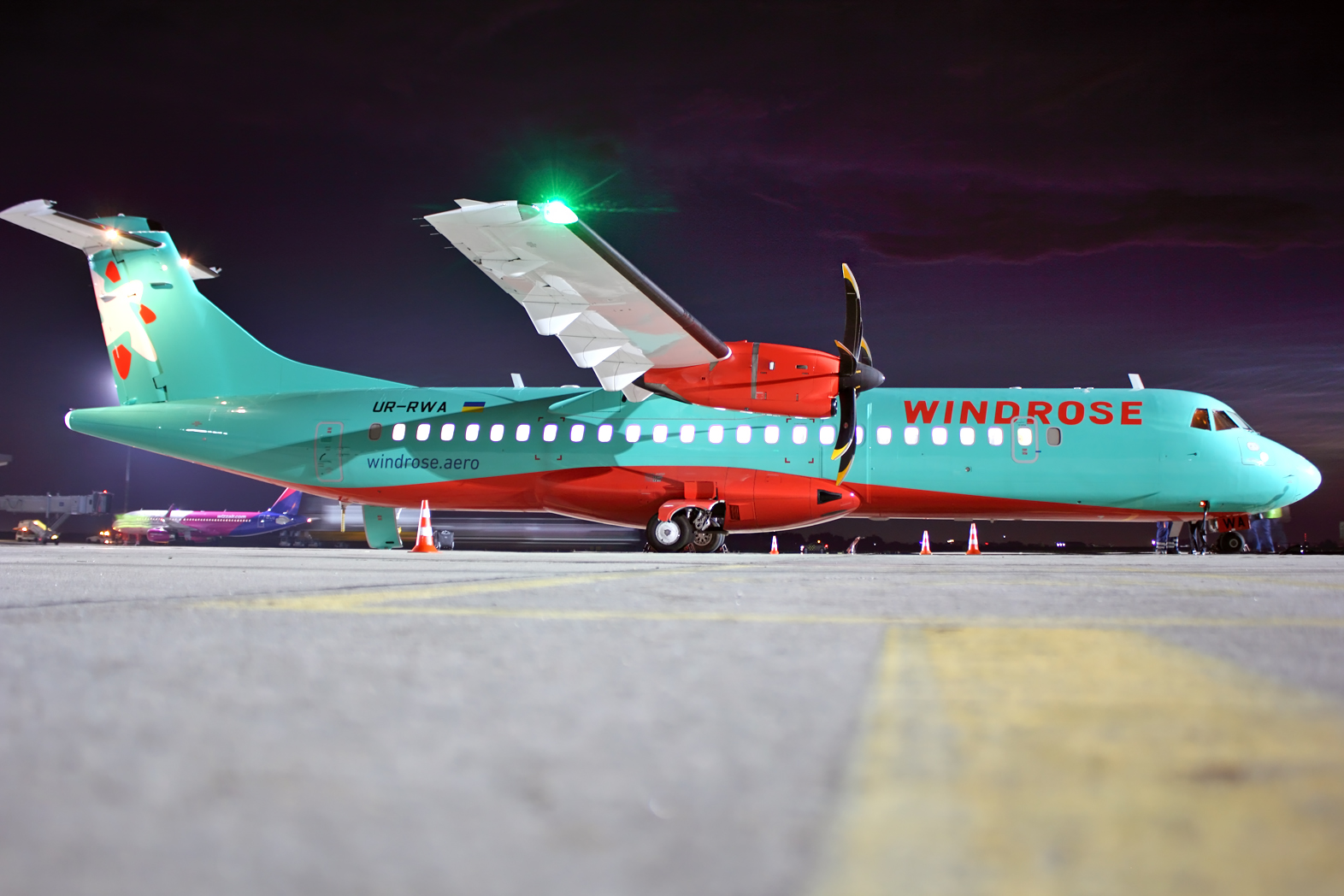 What's next?
The company plans to expand its domestic programme dynamically. Already in November 2020, it will be possible to fly to Ivano-Frankivsk. Besides, it gives the possibility of flying from the regions with convenient coherency for further travels by Windrose Airlines' international flights.
[1]
Windrose is one of the leading companies of tourist air traffic in Ukraine with the market share of 21%, according to the State Aviation Service of Ukraine. In 2019, Windrose transported 1.4 million passengers, making 28 flights a day on average. Windrose is included in the IOSA airline registry, which includes only 10% of the air carriers in the world, and only two of them, including Windrose, from Ukraine.
//=lang('blog_comments_off')?>
Subscribe to newsletter
You have successfully subscribed to the newsletter
Subscribe to newsletter
You have already been subscribed to the newsletter
Subscribe to newsletter
You have not entered a phone number or email